Policy Update: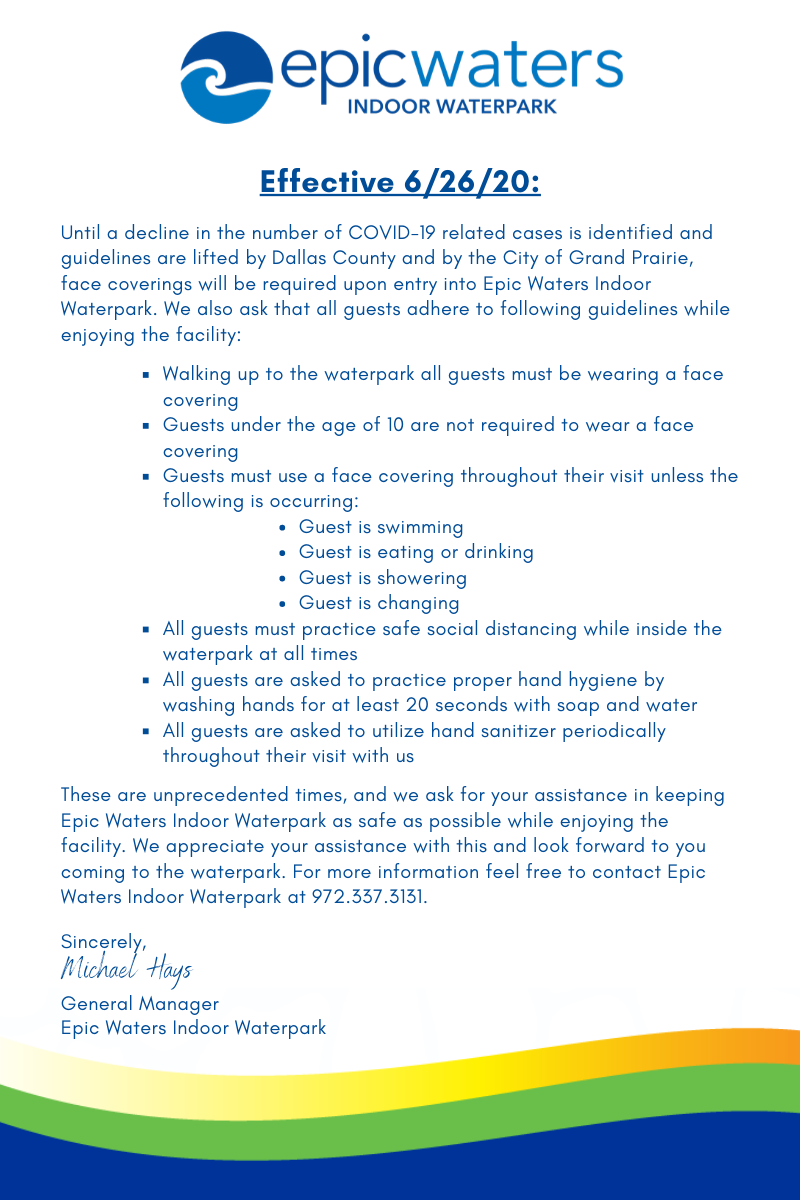 Are face masks/coverings required at the waterpark?
Yes, face masks or coverings will be required upon entry into Epic Waters Indoor Waterpark as well as in all common areas and lines.  Face masks will not be allowed while guests are swimming or enjoying any of the water attractions at the park. 
*For those with medical exemptions to this policy, please contact us at info@epicwatersgp.com to discuss available accommodations.
Will capacity be limited at the park?
To ensure proper social distancing, and because of state regulations, we have temporarily decreased the capacity allowed inside the facility. We will increase the capacity within the waterpark as updated state or federal regulations allow.
How do I purchase tickets?
All admission tickets can be purchased online at https://epicwaters.centeredgeonline.com/. Tickets at the door are not guaranteed and depend on availability.  If tickets are sold out for a particular day, a waitlist will be started. 
If I am an Annual Pass Holder or Season Pass Holder, what do I need to do before coming to the park?
Due to the park's lowered capacity, Annual and Season Pass Holders must reserve their admission at https://app.waitwhile.com/welcome/epicwaters or they can contact us at 972-337-3141. This will secure your spot in the waterpark while maintaining social distancing standards. While the capacity is lowered, your admission into the waterpark is not guaranteed without reserving your spot. With this mandated reduced capacity, wait times for attractions are significantly decreased resulting in a more enjoyable experience.
Where is the entrance to Epic Waters located?
The entrance is located between The Epic and Epic Waters buildings. A Team Member will be present to assist you inside the facility.
Will I be screened before entering the waterpark?
Yes, guest screenings will be completed at the door, and unfortunately, we will have to turn anyone away who answers yes to any of the following:
Are you feeling ill or showing any symptoms of COVID-19?
Have you been in contact with anyone who has tested positive for COVID-19 within the last 14 days?
If anyone in your party is feeling ill, please stay home and choose to visit the park at a later date.  Please Note: Any previously purchased tickets can be switched to a different day, based on availability at the time of booking.
Are cashless payments available?
Yes, Apple Pay and Google Pay are activated inside Admissions, at the Hungry Wave Café, and at Longboards Bar. We encourage electronic payments during this time.
Can I use my VIP/Free Admission passes to enter the waterpark?
During this time, we will be accepting VIP/Free Admission Passes Friday through Sunday ONLY.  Anyone planning to use these passes during the allowed days must make a reservation online at the link below so we can properly track capacity.
https://app.waitwhile.com/welcome/epicwaters
The Arcade is open!  Permitted by state regulations, our Arcade is open, however, we have incorporated social distancing supported by increased spacing between operating games.
How should I prepare before visiting the park?
Guests should bring their confirmation email into the park with them, either printed or on a mobile device.
Guests should be aware of the new guidelines in place around wearing masks and to maintain social distancing, and guests should consider any interactions with other guests while in the park.
Will all attractions and features be open for visitors?
At this time, all attractions will be open and available to enjoy, depending on capacity restrictions for the area.  This includes our outdoor Wavepool (when weather permits).
What kinds of social distancing guidelines are you implementing at the park and how are you enforcing them?
Signs have been installed in all areas of the park to assist with these efforts. We have also modified our floor layout with physical and visual guides to ensure that in both the standing and seating areas, individuals can remain at least 6 feet apart.  This is more spacing in between tables around the park and decreased the number of birthday party guests in the party rooms at one time. In addition, to limit waiting in line at the Hungry Wave, orders will be delivered directly to your table.  Please Note: Social distancing is a shared responsibility between our guests and the park. While we will provide guidance, we count on our guests to follow these new protocols to help maintain the safest environment for all guests and our Team Members.
What other precautions are you taking to help prevent the spread of COVID-19?
On top of promoting social distancing with signage and an updated floor layout, we installed additional signage throughout the park to promote personal protective measures like washing hands often with soap and water for at least 20 seconds and wearing proper PPE when possible. Complimentary supplies are available to support good hygiene, including numerous hand-sanitizing stations installed throughout the park.
What kind of PPE should be worn while at Epic Waters?
We require all to wear a mask or cloth face-covering and recommend some form of foot covering while walking throughout the park. We do not allow guests to wear a mask while enjoying any of our water attractions. We advise against this, as masks can be difficult to breathe through when they're wet.
To voice any concerns or for any additional questions you may have, please call us at 972.337.3131.